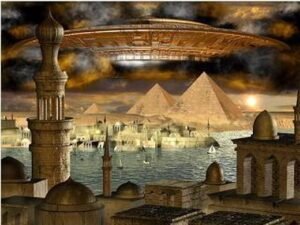 To the left is a picture from early Atlantis, showing the Queen's T-528 golden transport. This same craft she uses today to go to the Intergalactic Council meetings each month. Atlantis lays to the west of the ancient continent of Libya, today known as Africa. Today, Atlantis is in a dimensional world under a section of the Atlantic Ocean known as the Sargasso Sea. This area is also called the Bermuda Triangle, because of all the planes and ships that have vanished here. Many have been caught up in the frequent violent storms that plague this region. Islands in this area frequently have shipwrecks washed up on shore from many years ago.
To visit Atlantis today is a step back in time, no cars, people ride horses, or use the process known as mind-travel. No new structures have been added since the primary island relocated to the bottom of the Atlantic Ocean 7,200 BC. Most people who do travel there go to avail themselves of the educational opportunities at the University of Salem.
The University of Salem is one of the most advanced schools in Engineering and Advanced Technology. Many of the pilots commanding the T-132 transports (1/4 mile diameter), are graduates of this school.